McCain-Palin Shirts & Hats
Please note:
These are items that can be worn by little electronic people in the computer game,
The Sims 2
. If you are looking for things that can be worn by real people, go to the
John McCain
site and follow the link to "Store."
Credit:
I pilfered the basic graphics from that site. The rest of the designs are what Crystal wanted.
By Special Request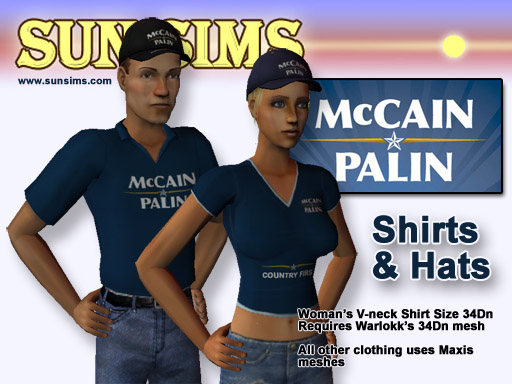 Modeled by our very own Crystal and Coal Miner
The sims are unedited screen shots from The Sims 2 Body Shop.
Crystal wanted some specific campaign paraphernalia, and these were at the top of her list: Dark blue polo shirts with the campaign logo in specific sizes, and baseball caps--a blue cap for the ladies and a black cap for the gentlemen.
Warlokk's meshes defy almost all attempts at putting a graphic on the front, especially in Crystal's 34Dn size, so I had to compromise on the design of the women's shirt, but I think it turned out rather nicely despite that.
You need Warlokk's mesh
for the female top. Get Warlokk's 34Dn mesh
here
if you don't already have it. The file you want is
Bodyshape_34Dnat_Top_Separates.rar
. Inside the RAR archive, the mesh you want is
MESH_afTop_34Dn_PoloShirt.package
.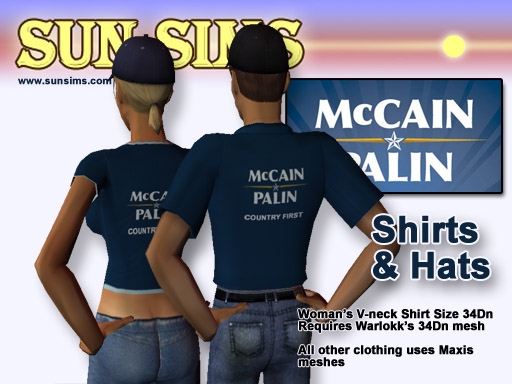 The logo is on the back, too.
There are four separate files: 1 shirt for males and 1 shirt for females; and ditto for the hats.
The hats are actually
hair styles
; and they'll show up among the hair styles (blonde for women, brown hair for men) in your game and Body Shop. When they take off their hats to go swimming and whatnot, they have short hair, so these hair styles don't really reflect Crystal and Coal Miner's real hair.
The shirts are only in adult sizes but the hats include all age groups. Toddlers and children will not have the hats, but teens, young adults, adults, and elders will.
Other Sizes and Colors?
I have only made these items in the sizes requested; however, if someone would like a variation of the women's shirt in a different size or color, let me know and I'll give it a shot. I think I can make the women's shirt look like the men's shirt if I try this on a Maxis mesh, and there are some alpha meshes that might support it.
(The problem is the way the UV Map stretches pixels in the more interesting topological regions, so to speak. I'd try adapting the clothing to the standard Maxis mesh right now, but after working on these four things for 12 hours, I'm running out of steam at the moment.)
Other Campaign Paraphernalia?
The Western Pennsylvania Chili & Literary Society requested yard signs, banners, posters, and things like that as well.
Updated September 9, 2008:
With expert help from Razamataz, the
yard sign is here
.
Fine print:
Normally I don't allow politics on my sites and ask people not to even mention any politicians that haven't been dead for at least 100 years, but obviously I made an exception in this case. Nevertheless, this is neither license nor invitation for anyone to attempt political hate-mongering on my sites. As always, any posts or other behavior that are not in concert with
our site's policies
will be deleted without comment, explanation, or remorse.
Copyright ©2008 by Sun Sims, for the contributors. Derivative works are not permitted. In the case of these garments only (and again by special request), you may distribute these garments--only in their original zip files and unmodified--from other sites, if you provide credit to Sun Sims and link to
http://www.sunsims.com/
. You are welcome to use our images, too.